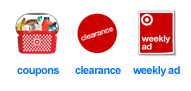 I have a few good reasons to head to your Target......
As I mentioned on Facebook a while back, Target has some long sleeve shirts on clearance for $3.60. To add to the awesomeness of this deal you can now print off a
$3.00 off one Merona Item
coupon and snag a shirt for 0.60...now that's a deal!! If you can't find the long sleeve shirts in your size, head over to the clearance racks because they have a lot of mark downs!!
Like getting things for
FREE
.....Print the
$1.00 off Up and Up paper towels
and snag the 0.99 single roll for free!!! The coupon does not state size so single roll is eligible. The coupon picture is for select-a-size but it works for the regular also.
While you're printing out your Target coupons, remember they stack with manufacturer so keep an eye out for something that you may have a manufacturer coupon for at home.
Also, if you're not a frequent shopper of Target you may not know to browse the endcaps of the aisles. When Target has a clearance sale you can find really good deals in all departments. They have a lot of bedding on sale including sheets and comforter sets.