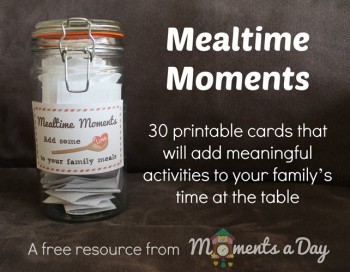 We all to often forget how important a sit down meal with our kids can be. Our family has been guilty in the past of eating in front of the TV...together, but not together. We have recently made some changes and we are eating around the table. It has been such a blessing to talk with each of the boys and my husband about their day. We are a busy family and slowing down to eat together is heart warming. I am excited to get these cards printed off and add some character building to our table time.
Head over to
Free Homeschool Deals
and print these super cute mealtime cards to help build character in your children over breakfast, lunch or dinner!!