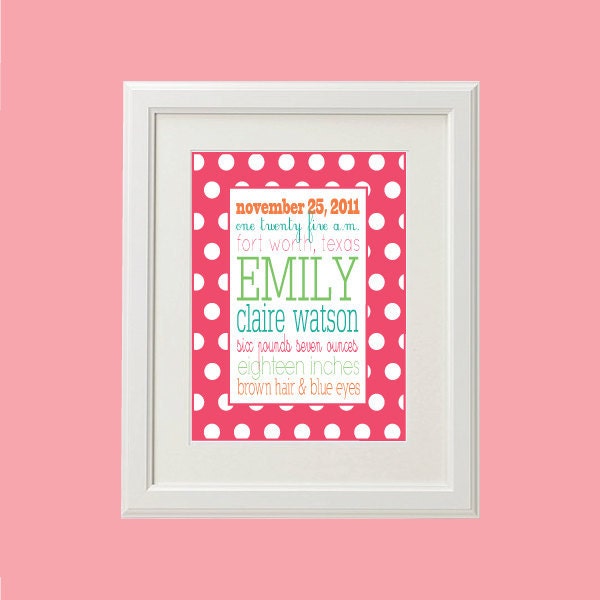 Welcome back to "Feature Friday"!! I am excited to introduce to you Aaron Russell from Raleigh, NC. Aaron is a wife and work-at-home mom who I discovered while looking at her wonderful posts on thrifty decorating. While looking around her blog I decided to check out her Etsy shop and discovered these too cute nursery prints. They were just too cute not to include on a feature!!
Here is what Aaron had to say...
1. Why did you start your business? I started designing prints when I was decorating my first son's nursery. I had a hard time finding exactly the right print in the exact colors that I needed, so I decided to make my own. Once I learned how to use the software and found a shop that could print enlargements at a reasonable price, it just made sense. I could create designs and allow people to customize them by choosing the size and colors they wanted. I've even had people send me pictures of their child's nursery and I've created something that's one of a kind to fit in the room.

2. How long have you been in business? I've had my

Etsy

shop for just over a year. Etsy just started allowing people to buy things with credit cards, no PayPal account needed, so purchasing from an Etsy seller is easier than ever!

3. What is your biggest seller? Owls are huge in nursery decor right now, so my owl birth stats print is a hit.

4. What is your favorite food? A loaded cheeseburger... with fries, of course.

5. What is your money saving tip? When decorating your home, DIY as much as possible (except nursery prints, come to me for those!). With a little Googling, time, and effort, I'm convinced that you can teach yourself how to do anything. I've sewn curtains and pillows and made a pretty awesome lamp for a fraction of what it would have cost me to buy those items from a store.

6. Tell me a little more about yourself....
I'm a 27 year old mother of two and my husband and I have been married for almost six years. I'm a former middle school teacher and current stay-at-home mom. I love being at home with my boys and spending my downtime making our home a comfortable and beautiful place for them and my husband.
Make sure to grab FREE shipping when you use code: FREESHIP at her Etsy shop!!!